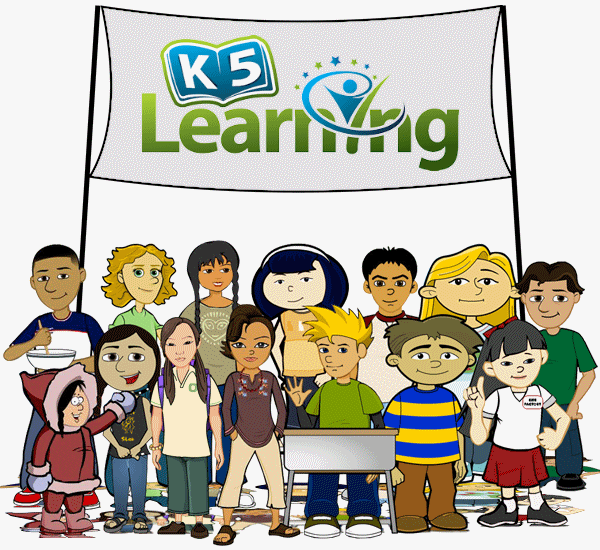 K5 Learning is a fun, online supplemental reading, math, and spelling program for children from kindergarten to grade 5. We were kindly given a 6 month membership.
My 9 year old son has really enjoyed K5 Learning. Its been a bit crazy around here lately, and its been nice to tell Cody to do his K5 and know he is doing something fun yet educational while I'm busy with something else!
We have saved K5 Learning into our favorites and he is able to just click it and get started on his own. He has his own account and a password. I love that he can do his work independently.
When we first set up our account, he had to do an assessment. This will help them start your child at the correct skill level. Kids work at their own skill level, not grade level. My son really struggled with the assessment (mainly the reading part), so I emailed them and they were kind enough to just set the level for me so he could get started.
Once you are logged in you have a main screen like this:
You have the choice to do Reading & Math or Spelling.
You can see here where you have access to worksheets as well.
And as a bonus you get a riddle everyday, which my son loves.
The answer is hidden until you click it.
He loves the math program. It may have a little something to do with a boy and a skateboard as the narrator. I love how it often reinforces what we've just learned or prepares him for something he'll be learning soon. In the photo above he was learning about how much change he would receive if his bill was a certain amount and he paid with another amount. I was surprised at how quickly he caught on to the concept.
I will say he has spent more time on the math than the reading, but he has done a bit of the reading program especially when the lessons are about bugs or animals. He especially enjoyed the lesson on spiders. ->
The reading curriculum covers 5 basic skill areas: phonemic awareness, phonics, sight words, vocabulary, and reading comprehension. It includes lots of fun learning games, stories, and more. I enjoy sitting and watching him learn and have fun at the same time. Lessons are divided into 5-10 minute segments.
The grade 4 reading included phonics, vocabulary, and reading comprehension. Again, K5 Learning is a supplemental program, but it covers so many areas. I love how it reinforced things we have already done or are doing.
The K5 Learning includes worksheets as I mentioned above. On the left Cody is doing a word search. I believe every lesson I saw him do included worksheets. We didn't print all of them, but we did print off quite a few of them to do and I plan to include them in our portfolio. I've shared a link below where K5 Learning offers free worksheets. Check it out!
We didn't use the spelling program as much as the Math & Reading, but I wanted my son to play around a bit with it. While he did enjoy the games, he does not enjoy spelling, so I didn't push it too much with him. Which of course when you decide to not push your child to do something, they find their way back to it. I do see him doing it on his own, which I count as progress!
Overall, I'm quite happy with K5 Learning. I also wanted to mention that there is an account for parents where you can see your child's progress. I didn't access this too much, as I could see from my son's account how well he was doing. We plan to continue using K5 Learning as a supplemental program for our homeschool. If you are interested, but want to try first, they have a 14 day free trial click here for more information.
A short video from K5 Learning: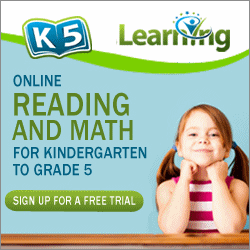 Check out all the free worksheets - click here.
K5 Learning is on Facebook, Twitter, Pinterest, and Google+.
For more reivews on K5 Learning click below...