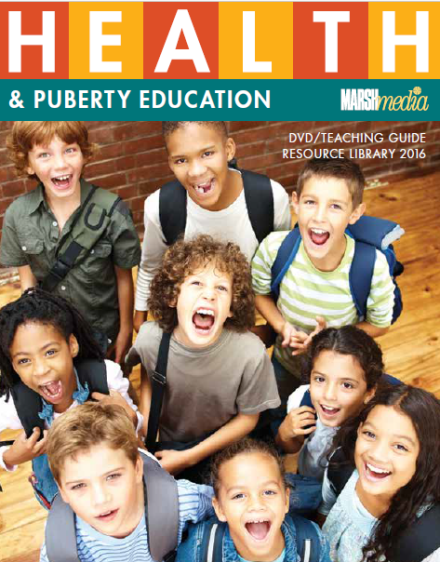 Marsh Media has been providing educational materials to Schools since 1969, and now they are looking to branch out to the homeschool community. I was given access to 54 online videos on topics that ranged from puberty, hygiene, safety, head lice, nutrition, and social skills. I want to share a bit more about a few of the videos that we watched.
One of the videos we watched was on head lice. Although my kids haven't had lice in awhile, it's something I wanted them to learn more about because it is quite common where we live. The video explained in detail what lice is, how one can get it, how you can keep from passing it on to someone else, treatment of lice, and finally how to prevent spreading lice and having them return. I liked that the video explained that it is common and it's nothing to be embarrassed about. Next to the common cold, head lice is the most common communicable disease among kids. "Be informed and be careful. No more head lice!"
(Puberty videos, separate videos for boys and girls)
Marsh Media is know for their videos discussing puberty. They have separate videos for boys and for girls, and also have separate videos for grades 4-6 and grades 5-7. I watched the video called "Just Around the Corner for Boys" (for grades 4-6) with my 9 year old son. The video discussed puberty and changes that will occur in your body. It discussed physical and emotional changes, hair growth and body odor, the importance of good hygiene, and more. It is designed for boys, so I wouldn't recommend it for girls, same goes with the girl video, don't let your sons watch it. It shows a pencil drawing with the male body parts and explain changes that will occur. It was a short part of the video, but I felt it was helpful to my son. Because my son is 9, he wasn't too embarrassed to watch this with his mom. In another year or two he probably wouldn't want me to sit with him. Haha!












Another video we watched was called "Take Care of Your Teeth!" This one seemed like it came from my childhood (80s). My 9 year old watched it with me. Annie and the Funsters explained the transition of baby teeth to adult teeth, how to take care of your teeth, and what happens at the dentist for a routine checkup. My son isn't a fan of brushing his teeth, but when the video was over he went and brushed his teeth. So, maybe we need to watch the video 2x a day?!!
We enjoyed watching the Marsh Media videos. There are lots of great topics discussed. There are some topics you may not feel comfortable discussing with your child. Marsh Media is a great option is clearly explaining the topics and how to handle them as well.
Marsh Media is on Facebook, Twitter, Google+, and YouTube.
For more reviews on Marsh Media click below...