Christmas is right around the corner! We recently had the opportunity to review the digital downloads of The Familyman's Christmas Treasury - Audio collection by Todd Wilson.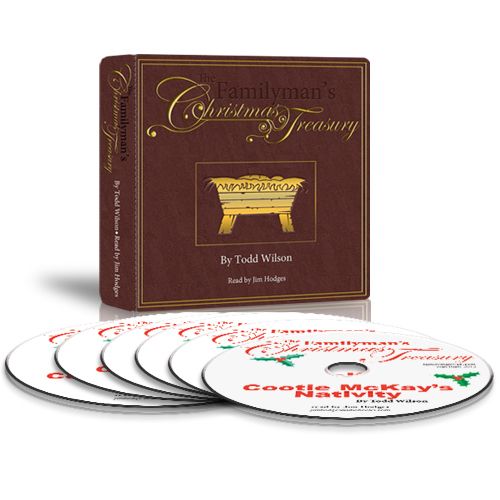 I first heard of The Familyman when I went to a homeschool convention many years ago. I purchased several of his books, so I was excited to do a review for The Familyman's Christmas Treasury - Audio Collection.
We have added read alouds to our homeschool day, and it was fun to change it up a bit and add these "books on tape" as I kept referring to them and my kids had no clue what I was talking about! There is just something fun about listening to audios. I downloaded these to my phone so we could listen to them in the house or in the car.
Colouring while listening to audios.
The Familyman's Christmas Treasury - Audio Collection includes these stories:
Captain Chaos and the Manger Blaster
Cootie McKay's Nativity
Gladys Remembers Christmas
Harold Grubbs and the Christmas Vest
The Bishop's dream
The Stranger
We were also given two bonus ones to listen to - It's Called Christmas and The Secret of Snow Village.
I'll give you a brief description below of each of the stories in the collection:
Captain Chaos and the Manger Blaster
- 10 year old Jason is a tired of hearing of hearing the manger story over and over and pretends to blast it to pieces. He is sent to bed early where he meets Captain Chaos and sees what would happen if there was no manger.
Cootie McKay's Nativity
- The year was 1956 and they almost didn't have Christmas, but Cootie McKay, who didn't know much about Christmas but along with his new Bible he saved the day and it was the best Christmas they ever had. (This is probably my favourite.)
Gladys Remembers Christmas
- Such a sad but lovely story. Gladys lost her mum when she was young, and was raised by a strict father who provided for them, but never showed love. Gladys wasn't a fan of Christmas, but one day a visit to an old house changed everything for her.
Harold Grubbs and the Christmas Vest
- Every year after Thanksgiving, Harold's father pulls out an ugly vest and wears it to church. Find out why that vest is so important to Harold's father.
The Bishop's Dream
- Where did the myth of Santa Claus come from? This delightful audio will explain how Santa Claus came about.
The Stranger
- How often do we turn our nose up to someone who is dirty and smells funny? What if someone like that shows up at your church or your door asking for help? Do you let them in? Do you help? This was a lovely story, and something we encounter on a regular basis here. My kids enjoyed this one.
The Familyman's Christmas Treasury
is a wonderful collection of stories that point people to Christ. Christmas is our favourite time of the year and what an amazing opportunity to speak to others about Christ when they are in the "Christmas Spirit". As we celebrate Christmas we keep our focus on Him, and incorporate that in everything we do during the Holiday Season. This Christmas Treasury will definitely be something we listen to again.
The Familyman's Todd Wilson said about his audio collection, "As the father of eight children, I wanted Christmas stories that took longer than 5 minutes to read, didn't confuse the truth with a tale, and above all, pointed my children to the Savior. I couldn't find any, so I wrote my own. My hope is that Cootie McKay"s Nativity will give you gobs of snuggling time, Christmas enchantment, and will point your children to the manger year after year. "

The Familyman's Social Media
Facebook:
https://www.facebook.com/ToddWilsonFamilyman/
Twitter:
https://twitter.com/youdadad
Instagram:
https://www.instagram.com/toddwilsonthefamilyman/
Pinterest:
https://au.pinterest.com/familymantodd/
Google Plus:
https://plus.google.com/u/0/107435990705080484154
Blog:
http://familymanweb.com/blog/
For more reviews of The Familyman's Christmas Treasury click below...