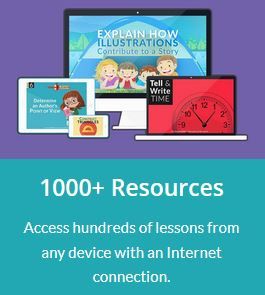 Educeri ....... Educeri a division of DataWORKS has over 1,000 ready to teach lessons on their Educeri Lesson Subcription Service, which we've been reviewing over the past few weeks.
When I heard over a thousand lessons I was immediately overwhelmed. I thought it would be a bit intimidating and I didn't want to feel lost not knowing where to start. But I was pleasantly surprised how well the website is organised, and everything was VERY easy to find.
Educeri has lesson plans for all grades, kindergarten through high school. As you can see in the photo on the left, it has lessons for Math, Science, History, Art, and more. It is easy to search by grade and by subject.
Educeri was designed for classrooms, but it's just as easy to use with one student. The lessons can be shown on an overhead for classrooms, or just displayed on your computer. The lessons are fun and easy, and give step by step instructions with just a click of the mouse, very much like a PowerPoint presentation. The best part - they are already done for you!
Educeri is not a complete curriculum, it provides supplemental lessons to aid in learning.
For homeschooling, we used the Educeri lessons to help fill in gaps where my kids are struggling and some we did just for fun. This was great for me, as I'm not that creative and I'm often on Pinterest looking for ideas anyway. I searched for a lesson that we wanted to do, printed out the student handout, and then followed the lesson plan as I show in the video below (being loaded now...coming soon!).
While the lessons for my 3rd grader only took 30 minutes or so, the lessons for my 8th grader took closer to an hour, which we broke up over a few days. I did the lessons with my 3rd grader, but my 8th grader could easily do them on her own. The lessons are very thorough. Their About Me page says they are "a group of educators, editors, graphic designers, grammar snobs, and math nerds who are passionate about providing top-notch education materials". I can agree that their materials are top-notch.
The lessons do align with the Common Core. We don't follow the Common Core, but it may be important to some of you.
For me personally, I did like the simplicity of looking up a lesson to use, but I don't think that we would use it all the time. Our curriculum is pretty thorough, and when I do need something to help my kids I just do a quick Google or Pinterest search. Like I mentioned earlier, Educeri is ideal for classrooms, but it can be used for homeschoolers or even homeschool co-ops.
If you want to give it a go there is a 30 day free trial and you get unlimited access to the 1,000+ lesson plans. Click here for more information.

Educeri's Social Media:
Facebook
Twitter
Pinterest
For more reviews on Educeri, click below...