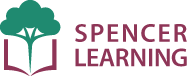 We received the downloadable software from Spencer Learning for the Ultimate Phonics Reading Program for review with The Old Schoolhouse Homeschool Review Crew. Their motto is "Helping people of all ages become better readers". Here is a quote from their website...
"Most of the 6 out of 10 children who are behind in reading at the end of 3rd grade never catch up. They are weak readers or non-readers for the rest of their lives, unless they receive special instruction such as Ultimate Phonics."
I work with children that are in the public school system (in Australia) and I can tell you that is very true. It's a sad statistic.
My 8 year old son who is in grade 3 used this program. We found the program easy to install and we were able to start using right away, always a bonus in my book. The Ultimate Phonics Reading Program has over 7,000 pages which has been divided into 262 lessons. There are more than 4,400 words broken down and sounded out, as well as over 2,100 sentences that are also broken down and sounded out. This goes from basic words to advanced words.
Navigating through the program is quite simple. As you can see in the photo on the left, you select your lesson (remember there are 262 of them!) using the drop box, and then next to the lesson the drop box called "word" comes down and you have even more options: Idea/Pattern, Word list, Words, and Sentences (in photo below).
By putting your cursor over the letters and words you will hear the blending and sounds. When you put your cursor over the letters in the yellow boxes you hear just the sounds, when you put your cursor over the word you hear the entire word. My son likes to make a game of it and say the words or sounds before the computer said it.
You can easily go forward and backward, you can check your history, and even search. There is a menu and help button. It is a very simple, but effective program. I found my son using it for longer than I asked (1 lesson a day).
All lessons are downloadable and printable.
If you're not sure where to start you can have your child (or even yourself) take the free reading test here. Any age can use the program. It would be great for ESL as well. There are more free resources here, seriously, you should check that page out. :)
I was quite impressed with the program. It is quite simple. It's not super fancy. It kind of looks old school computer. BUT sometimes you don't need all the fancy bells and whistles. Simple is better. My son is in 3rd grade, I wouldn't say he is a weak reader, more reluctant. He would much rather be outside playing with sticks and riding his bike, but being a strong reader is important to me. We will continue using this program even though our review period is over. I have found it to be beneficial for him. It's something he can do in short periods of time each day and he enjoys it.
For a 10 day free trial click here!
By the way, it works on Windows and Mac.
They are running a $20 off sale until September 30th, which brings it down to $49.95. This is a one time charge with no expiration date or subscription. You can use this for more than one child as well.
Watch their quick demo below:
Find Spencer Learning on Facebook and Twitter.
For more TOS reviews click below...