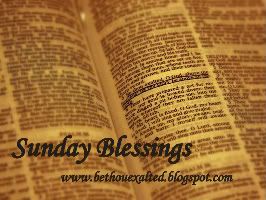 Today marks the 10 year anniversary of the terror attacks on our nation. I've written many posts on the 9/11 anniversary throughout the years. I still cannot believe it has been 10 years. I remember it like it was yesterday...so do you I suppose. I was so proud of how our nation responded, especially our President at the time, George W. Bush.
I don't know where we'll be ten years from now. Will our country be worse? Will there be more terror attacks? Will there be a revival? Will the Lord have returned?
I can only pray that the Lord will find me faithful.
Here are my Sunday blessings...
We made it safely home. Our little Subaru with 325,000 miles and just a few little issues keeps on running, God is good!

We got to see Joseph at Sight and Sound for only $15 each!

Patrick and I were able to get away overnight to Lancaster.

Had a huge pile of mail waiting for us. I love mail!

And lastly...

Our VISAS were approved!!!
I am blessed.