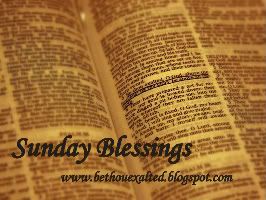 I've always wanted to do someting different on my blog on Sundays. I don't like to post normal things. I want it to be uplifting and bring attention to God. I have some things I'm mullling over. Do you know of any good Sunday memes? Today I thought I'd share some Sunday Blessings.
Souls were saved at church this mornings!

Every seat was filled, then eve brought chairs out. What a problem to have!

I feel so blessed to be a part of this, God moving in a little Navajo church.

We had our health exams this past week and they went well!

Cody said, "Mommy, you're my buddy."

He also said this afternoon (with no prompting), "Mommy, I love you."

Safety as we traveled this past week.

I'm also thankful I live in a free country with the freedoms to worship God.

I'm thankful that I was born in this country with the privilege of hearing the Gospel and being saved at a young age.
What are your Sunday Blessings?