We were given the Individual Membership from Super Teacher Worksheets to review alongside our regular homeschool curriculum. I am not one to step outside my curriculum very often, but the past few weeks have been very busy for me, so having the Super Teacher Worksheets as a backup for my kids has been a lifesaver for me!

I've been using Super Teacher Worksheets for the past few weeks and still feel I have only scratched the surface of what all they have to offer. I have used this for my 9 year old son who is in 4th grade (year 4). They have worksheets for literally everything. I cannot think of one area they have missed.
When I knew we were going to have a busy day and I wouldn't be available to do our main curriculum, I went onto the Super Teacher Worksheets and printed off a heap of worksheets for my son to do. They have everything from reading comprehension to multiplication to science to writing prompts and so much more!
The pages have fun, colourful graphics that caught my son's eye. So when I put "extra" work in front of him there was no grumbling and complaining. I printed off a lot of fun activities for him. I like to call this "sneaky school." I love when he is learning and he doesn't realise it.
Reading Comprehension is an area that I know he struggles with, so I love that Super Teacher Worksheets had fun stories that he was interested in reading, and then he'd answer the questions on his own. This gave me a good idea of where he is at with his reading. By the way, the worksheets come with the answers so mum doesn't have to worry about reading the story to check his answers!
There are plenty of seasonal worksheets, as well. While we don't have the fall season here, we do miss it. So my son enjoyed doing worksheets with a fall theme.
This was one of his favourite worksheets.
Another fun area that Super Teacher Worksheets has to offer is that YOU can create your own worksheets. Again, I feel that I've only scratched the surface of this great website, but I made a word search for my son using land animals that he has learned about in his science. As you can see in the photo below, I simply added the words, and they made the word search. It comes with the answer key and the info. I secretly like to see that it was created by: Mum! Haha!
I have also used multiplication worksheets to help reinforce the times table for my son, and we've done a few worksheets on adjectives and adverbs. There is just so much here, I encourage you to take some time to look over the website -
Super Teacher Worksheets
.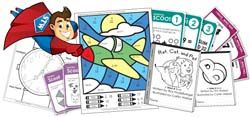 The Individual Membership is only $19.95/year for one user to have unlimited access to all the printable resources. Totally worth it in my opinion.
Super Teacher Worksheets' Social Media...
Facebook
Twitter
Pinterest
Instagram
To read more reviews on Super Teacher Worksheets click below...