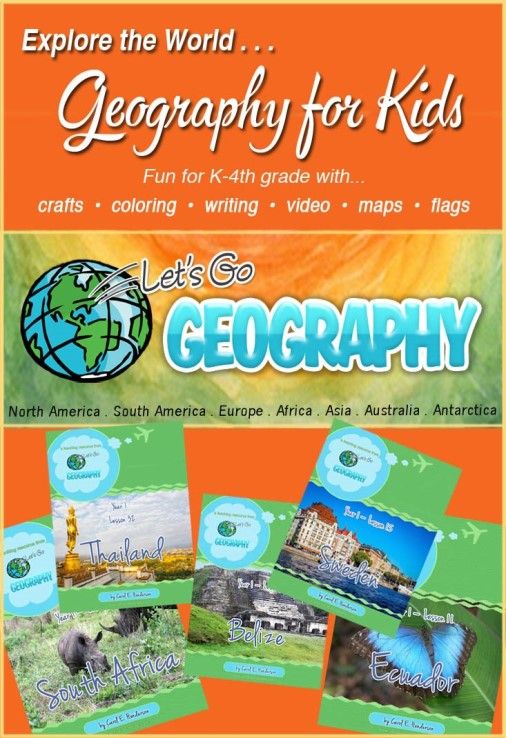 Let's Go Geography is a fun and exciting Geography program for K-4th grade. Let's Go Geography will send your child/ren to a different country every week! With weekly emails of your lesson which include fun activities, links to videos, a craft, and so much more, your child will love learning about all the different countries around the world.

We have reviewed this curriculum for roughly 6 weeks. My favourite thing about Let's Go Geography is that they email you the lessons every week! The email contains a link which sends you to your account on their website. From there you can print out the activity and colouring pages, click on video links, and so much more. No prep or late night planning for me! I chose to do the curriculum in order, but you can chose any country in any order you want to do them.
We started with assembling our Travel Journal. We chose our cover page, printed it out, then put it in a 3 ring binder. Then we made a separate section for each continent, as you can see in the photos below.
Our cover page and first section of our travel journal.
As you go week by week your travel journal will slowly start to fill up, and at the end of the three year course, you will have pretty much travelled the world.
I thought I'd show you how we are doing our current week. On Monday I received an email from
Let's Go Geography
, I clicked the link in the email and it sent me to the Belize link on their website. From there I printed the necessary pages. You can print out all of the pages (I believe this particular one had about 30 pages), or you can just print out the activity and colouring pages, maps, flags, etc. Throughout the week I'll go through the lesson and pick videos for my 4th grader to watch. He particularly loves the videos that shows what animals live in that country. He also loves flags at the moment. So we make sure that is one page we take the time to colour in. We take as much or as little time as we need to complete the lesson. We don't always do each activity, but there is so much in each lesson to chose from that we don't feel that we're missing out on much. They have everything from maps, to flags, to national anthems, to colouring pages, to animals, to crafts in every lesson!
The photos below show some of the pages I printed out for the lesson on Belize.
Again, you don't have to follow their plan, you can skip around to different countries. No matter which way you chose, you will find the lesson plans easy to follow, the activities are exciting for the children, and the video links were very interesting.
Here is their 3 year plan...
Find Let's Go Geography on Facebook and Pinterest.
To read more reviews click the link below.