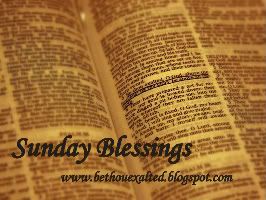 Vacation Bible School was a huge success this week - 20 souls saved!

I was especially praying for Byron this week, and was so excited when he came back on Thursday and accepted Christ. Here is a photo of him...
I'm so thankful to hear a friend may start blogging again. I love her writing.

I'm thankful that we're finally adjusting to the altitude and I've been headache free for awhile now!

We went to church two nights this past week on the Hopi Nation. It's a hard field, but I'm thankful for a missionary who is staying faithful. He's been there almost 3 years and has 3 people faithfully attending his church.

I'm thankful for a good church. I feel that I've grown so much spiritually this summer.

I'm thankful that the Lord has helped me keep up with my reading of the Bible in 90 days.
"O praise the Lord, all ye nations: praise him, all ye people.
For his merciful kindness is great toward us:
and the truth of the Lord endureth for ever.
Praise ye the Lord."
Psalm 117
How about you? What are you thankful for?