This Give-Away is now closed.
Thanks to all those who entered.
This giveaway is for some used Abeka Kindergarten curriculum. The Writing Tablet goes from page 13-142 and the Number Writing Tablet goes from 9-126. The Letters and Sounds Book goes from 149-245 and Number Skill books goes from 91-167. There is much left to the books and I hate to throw them away. So I hope someone out there can use these.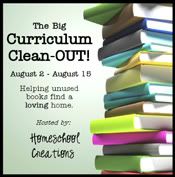 Click the photo above to go check out more curriculum giveaways.